|Nielle|
   ~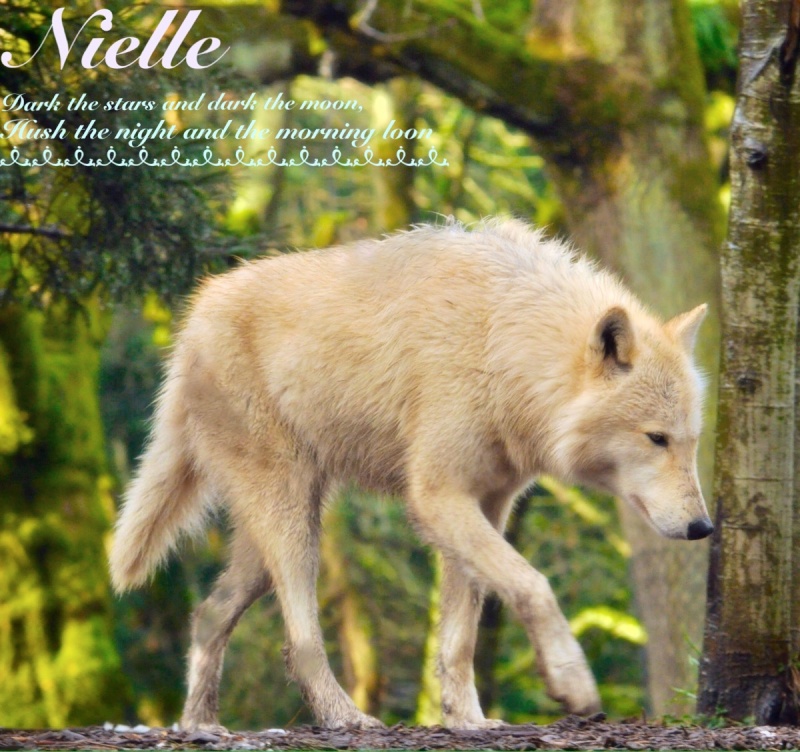 ~    
Gender: Fae, Female, Vixen
Age: 2 years 10 months
Allegiance:
   Corazon,    
Rank: Huntress
   ~
   ~    
Appearance:
   ~
::Appearance::
Nielle's pelt consist of a cream like color dashed through with brown and flecks of white, her eyes look to be made up of the moonlight itself they are a stunning silver with veins of pale blue running through them that can be most likened to cracks on a frozen pond.
   ~    
Personality: Nielle can be described as a quiet wolf but don't underestimate her, she has a fiery temper and loves revenge. Despite this she is still kind towards her packmates and those she trust she would do anything to keep them safe and happy. She is a good leader and has no problem speaking in front of large groups Nielle trust very few wolves even if she knows them well she still may not fully trust them.
Strengths
   Gentle
Nielle is a gentle soul she loves nothing more than being around friends and family. She wouldn't hurt anything other than when shes hunting, she normally stays out of conflict and tries to stop fights before someone could get hurt.
   Kind-hearted
   The fae has a heart of gold though she may not show it, seeing others happy means the world to her. If anyone was upset she would even push down her won feelings to brighten their day.
   Loyal
  Nielle's strongest belief is that bonds can be strained and torn but never fully broken, she will stick by her friends through thick and thin even if they don't want her too. She would try to at least build back the relationship if something mjor happened where both parties were hurt.    
Weaknesses
   Fiery temper
   Nielle has a short fuse she can be happy one minute but set her off and she can quickly turn into a cream colored ball of fury.
   Mistrusting
 This can cause problems between wolves some might think of this as rude or not trust her in return.
   Quietness
   She prefers to keep to herself confiding in few wolves, if she is upset or worried about something she would more than likely not tell anyone and it would be nearly impossible to tell unless you are close to her.
   ~
   ~    
Backstory: Nielle was raised in the Night River pack with her brother Cain. She was trained as a huntress at first but it soon became apparent that she was destined to lead. During her second winter her father made her delta of the pack. A few months after that she realized how cruel and selfish the pack was. Nielle left the pack later that year after her father died, her brother left for another land with a lovely fae named Selena. She later joined the Corazon pack where she currently resides.
   
Mate: None yet possibly in the future
   Offspring:N/A

   ~

   

Additional Information:


   Secret Codes: Rain came in and shredded it
   Theme Song: Gone: Ioanna Gika

 
.
Huntress




Posts

: 9


Reputation

: 5


Join date

: 2015-02-09



ACCEPTED!
You may now begin Role Playing
Water Lvl 1 Beginner





Posts

: 219


Reputation

: 7


Join date

: 2014-06-25


Location

: West by god Virginia!

Character Statistics
Age: 4
Species: Mackinzee Valley Wolf
Rank : Alpha




Similar topics
---
Permissions in this forum:
You
cannot
reply to topics in this forum