|Marshmallow|
   ~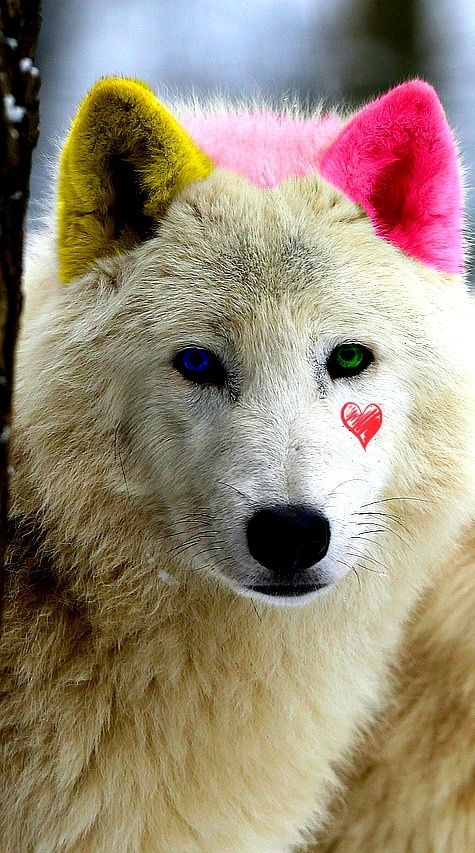 ~    
Gender:
Female    
Age:
1 year    
Allegiance:
   Corazon    
Rank:
   Trainee
   ~    
   ~    
Appearance:
Marshmallow is a ivory white fae with light pastel like markings. Under her left eye is
a heart, similar to that of a doodle. It looks as if someone drew it onto her, but at birth she had this marking. Another odd marking is a yellow shooting star, available for show, on her right hip. Her eyes are multi-colored one being a bright blue and the other a bright green, however in the shade her eyes appear darker in color. Usually in the sunlight is when the brightness, of her eye colors, are shown. Her right aud is a yellow pastel color, and the other ear is a bright pink(depending on lighting, year, date, and time). Between her ears is a light red that seems to get more red at the tips of her fur along her tail and back. Her tail tip is, oddly enough, green! It's a light pastel green, and no other green can be found on her body except one of her eyes. Marshmallow's two front paws are a cyan blue(like her eyes) and her rear legs, have a darker blue. The darker blue reaches up to her knee, however it does stop before actually reaching it. Her cyan paws stop at her dew claw. Marshmallow is a very fluffy and soft furred fae, her friends often lay on her a lot saying things like, "Oh! It's so soft!" She very much enjoys this and finds it comfortable so she doesn't complain. Her current height is about the average size of the average fae, she hopes to stay this tall.
   ~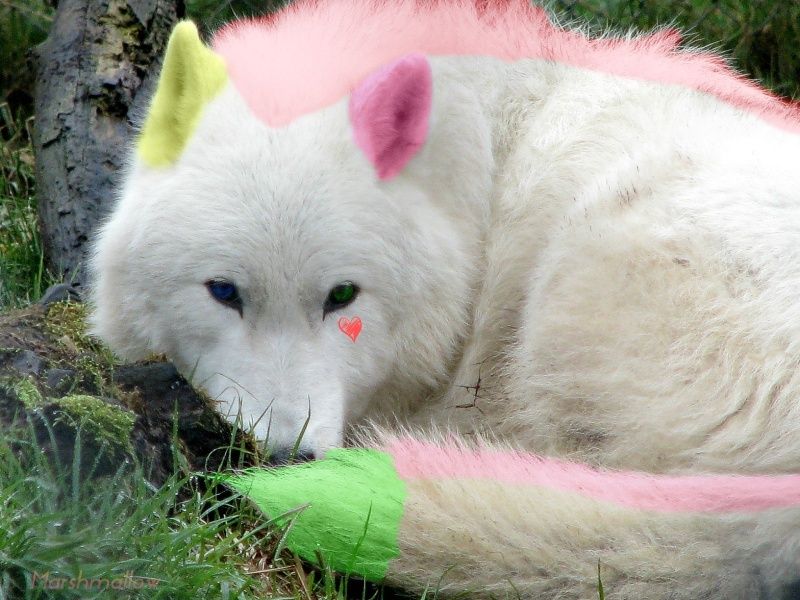 ~    
Personality:
Marshmallow is a friendly fae who enjoys the company of her fellow companions. She has never been around any crazy, evil, or very mean wolves. So she doesn't even know they exist, however she does think that the Night River pack, by over-hearing, is a not-so-nice pack. She usually will very quickly volunteer herself to show around new members or the pack and introduce herself right away. She is kind and caring and will quickly jump to defend her friends and pack-mates from any threats or foul words. She hardly gets mad and can see the good things in them.    
Strengths:
   Quick Witted
   She learns thing quickly and can usually remember it.  
  Smart
   As stated above, she is smart and usually asks questions about things she doesn't know.    
Good Swimmer
   She knows how to swim and usually is seen trying to hunt fish if she gets the chance.    
Weaknesses:
   Kind-Hearted
   She sees the good in everything, even if it's something horrible.  This can get hurt.
   Hates Fights
   She hates it when two wolves fight physically and she's always scarred that one won't ever get up when the fights over.
   Sensitive
   She dislikes when others around her get sad and it usually makes her sad also. Usually she will try and comfort this sad wolf however.
   ~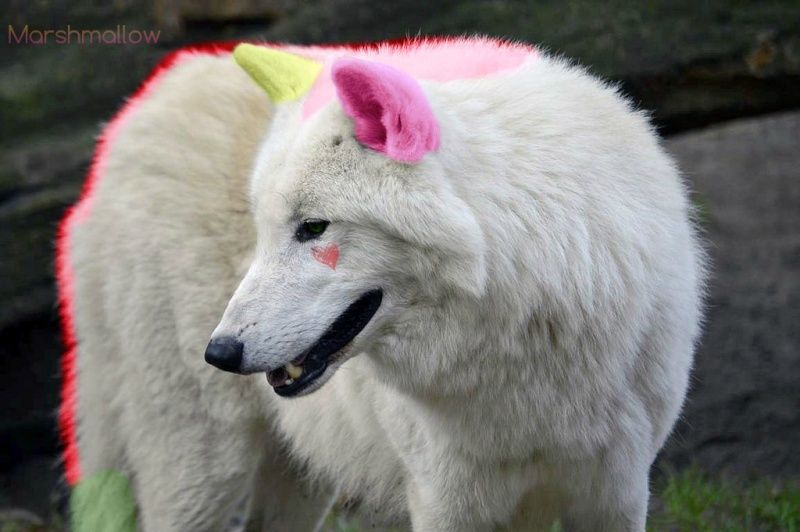 ~    
Backstory:
Marshmallow was born to Cookie and Hollow, along with her siblings Blueberry, and Frostbite. A few months passed and the weather turned vile, a snowstorm got the three of them lost. With the anxious barks and howls of their parents drowned out by the snow storm. Their scent was lost by their parents and tracks covered by the snow. Soon the siblings lost sight of each other and not to long a ivory fae with green eyes rescued Marshmallow and adopted her as her own.    
Kin:
Starfire- Cousin
Blueberry- Sister
FrostBite- Brother
Hollow- Father
Cookie- Mother
(all available to be role-played except Starfire)
Mate:
None, available.    
Offspring:
Future off-spring may carry all her colors or just a few, multi-colored eyes could also be present.
   ~    
Additional Information:
with hair lol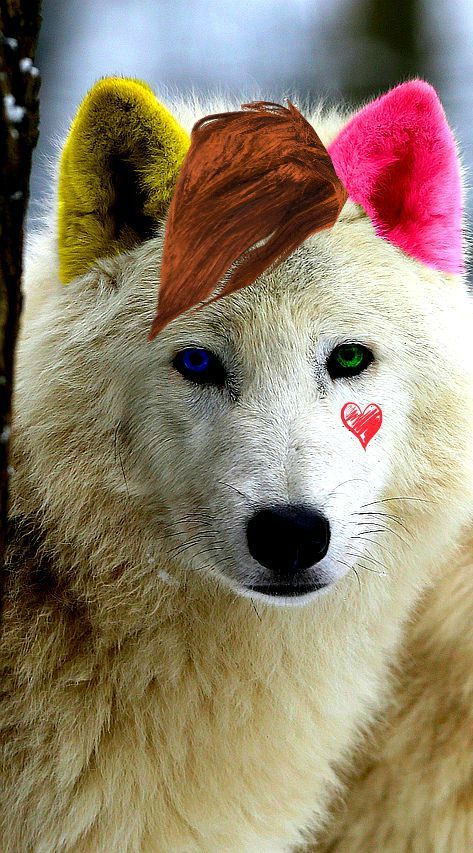 reference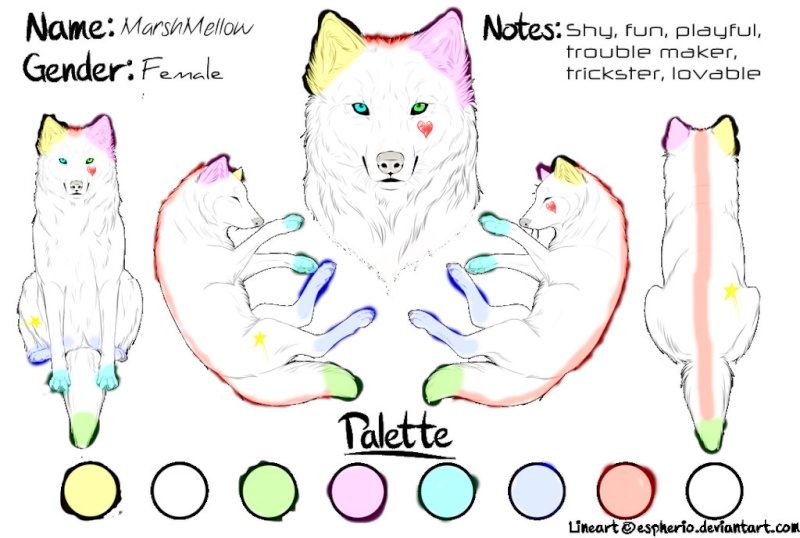 Secret Codes:
Theme Song: