B I O G R A P H Y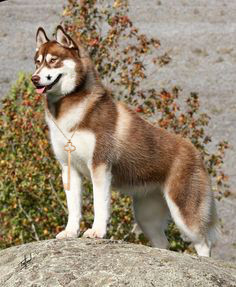 There`s a fire burning inside me
Cold steel calls out my name
Tempted to give in to the rage
B A S I C S
Basic
Name : Caelum
Nicknames :Cal...If you could come up with some, it`d be great.
Age : 3 years of age.
Sexual orientation : Bisexual.
Gender : Male.
Torned apart by this affliction
Locked up inside myself
This life is much too young to fade
P A C K     I N F O R M A T I O N
Rank : Guardian.
Pack : Night River.
I ran away from the pain
Always breaking down inside
Incomplete, but now I see
This won`t be the end of me!
P E R S O N A L I T Y
Caelum personality is rather very simple. He`s one that is very grumpy most times, never allowing himself to smile. He doesn`t allow himself to laugh and enjoy time with others. Caelum is a very serious dog, that can take his job a little too serious at times. He`s always so rude and snaps at everyone for no particular reasons. Behind this shell hides a caring wolf who would do anything to protect what he loves. Darkness is what Caelum is described to be, but that`s just not him. The husky despise feeling weak and he won`t show any signs of weakness, pretending to be fearless. Caelum believes he has to remain strong although he`s in pain.  Caelum is one who doesn`t trust anyone, he has been betrayed many times and he won`t allow it to happen again.
Likes:
Being alone
Freedom
Doing his job
Dislikes:
Conversations
Joyful wolves
Being interupted while doing his job
Strenght:
Fighting
Weakness:
He won`t allow you to know.

Black and white melting into grey
Till every truth is stripped away
When nothing`s wrong nothing`s ok
Everyone has been betrayed.
A P P E A R A N C E
Caelum is a husky Siberain dog breed. Having a thick coat, Caelum`s pelt color is composed of brown and white. Having bi colored eyes, a light grean pale color while the other being the color of dark blue. Caelum has both his parent`s characteristics mixed. A large scar is to be found on his right eye which he got from a battle. To sum it up, Caelum is a basically large dog, well built. He also tends to wear this necklace with a key hanging, since it`s a precious souvenir from his father. A black star is to be found on his muzzle as well, this was a way to indicate in which pack he was in the past.
I ran away from the pain
Always breaking down inside
Incomplete, but now I see
This won`t be the end of me!
H I S T O R Y
w-i-p
Theme song:
https://www.youtube.com/watch?v=zO7eYpGioWo&feature=player_detailpage



Posts

: 1


Reputation

: 5


Join date

: 2015-02-16



ACCEPTED!
You can now begin roleplaying! YAY!
Just be sure to finish his history soon.
_________________
Protector




Posts

: 26


Reputation

: 0


Join date

: 2015-01-17

Character Statistics
Age: Three 1/2 Years Old
Species: Wolfdog
Rank : Corazon




Similar topics
---
Permissions in this forum:
You
cannot
reply to topics in this forum