|Remus Vale|
   ~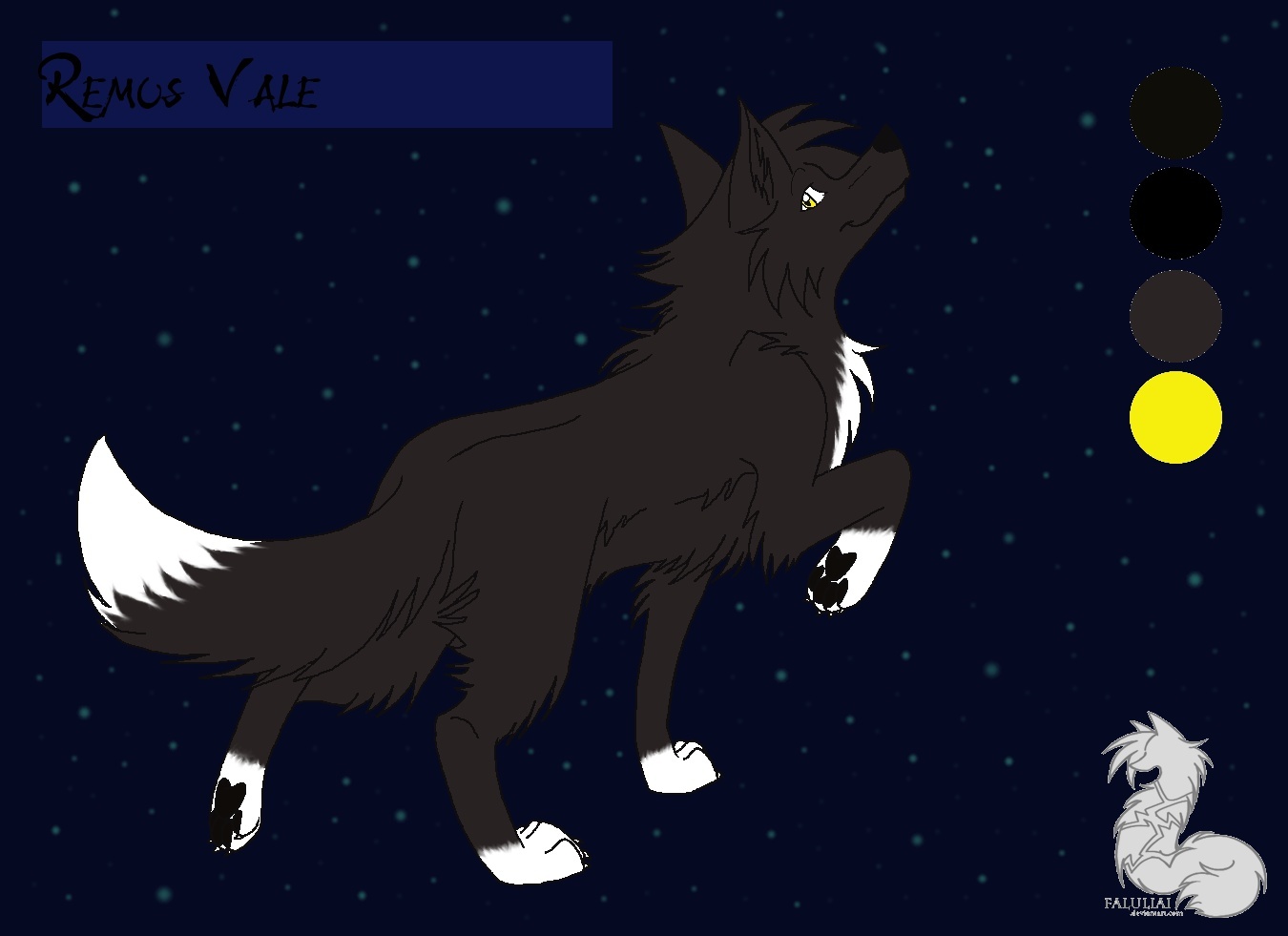 ~    
Gender:
Male    
Age:
2 1/2 Years    
Allegiance:
Corazon    
Rank:
Scout  
   ~    
Appearance:
Remus is well rounded, though his build is more focused on speed. Long legged and tall, he is larger than most in his height, but lacks in bulk compared to others. Rem always has an attentive posture, and rarely ever bows down or slouches. His coat color is primarily black, though his paws, tail tip, chest, and ear tips are a clean white. It is kept clean and presentable at all times.
Optics:
A sharp and bright yellowish gold.
Fur Texture:
Extremely thick and slightly rough, though is kept well-groomed and presentable at all times.
Scent:
Smells slightly of winter-bound everglades
   ~    
Personality:
Always on the quest for knowledge, Remus is always willing to learn, and is usually quick to grasp new material. Although he is wary of most wolves, Rem strives to be a good friend when the opportunity presents itself. Most of the time he is kind and helpful, but when someone looses his trust, they will find that it will be a hard task to regain it. On the flip side, Remus is extremely loyal towards his close friends. when tasked with something, he will see it through to the end. In addition, Rem has a strong drive to prove himself, a trait that arose from his past    
Strengths:
Remus has a strong drive to learn~
He is always keen to know how things work, whether it be about pack culture or new combat techniques. This being said, he has a wide array of built up knowledge, however disorganized it may be.
He knows how to survive alone~
Due to events in his past, he decided it best to leave his old pack in an attempt to start anew. While nothing particularly devastating directly happened to him, he still found it better to take his leave. He's spent many moons travelling by himself.
He is strong willed and loyal~
This is perhaps the most prominent trait that arose from his history. He is determined to see things through to the end, and when he promises something, he will be determined to make due on the pledge.    
Weaknesses:
Determined~
A trait passed on from his father. Oftentimes, he ignores other options and is set to continue about with his plan. This also means that he doesn't know when to quit, resulting in a situation that's worse than what he started in, though this is rarely the case.
He holds grudges~
Remus is usually open and friendly, though when his trust is betrayed, he will hold a grudge for a lifetime. He never forgives easily.
Remus is overly trusting
He tries his best to ignore the worst in other wolves; combined with his determination, this can often lead him into unsavory situations. A side effect of this is that with the right wolf, he can be manipulated to a fair extent.
   ~    
Backstory:
WIP- coming soon.    
Kin:
Father: Soli Vale
Mother: Nakia Vale
Siblings: Myra, Kyra, Jarrah    
Mate:
None    
Offspring:
None
   ~    
Additional Information:
None, though on a side note,i look forward to RP'ing on here.    
Secret Codes:
Shredded by Rain[/u]
   [b]Theme Song: